The Jr Patriots St Louis Youth Wrestling Team works closely with the area high school wrestling coaches and programs to supply a steady stream of experienced wrestlers to high school wrestling programs across the St Louis area.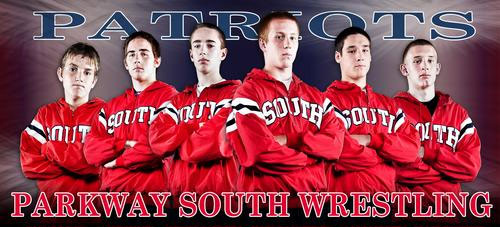 We know how hard it can be to wrestle in high school against wrestlers who have more experience. This is why the Jr Patriots Youth Wrestling Team prepares all of our young wrestlers for high school wrestling competition with hard work and great technique.
Many of the experienced former Jr Pats wrestlers go on to be leaders of St Louis area high school wrestling squads.
Here are a few of the St Louis area high school wrestling programs where the Jr Patriots Wrestling Club often sends experienced wrestlers.
We want you! Come out this year and join the Jr Patriots Wrestling Team!
Anyone can get a head-start on the tough high school competition by learning how to wrestle on a St Louis area little-league wrestling team.
Most of our wrestlers go on to fill the Freshman, JV, and Varsity wrestling squads at the area highschools, and as you can see from the image above, the Parkway South Varsity Squad is filled with former Jr Patriots who got their first wrestling experience in the Jr Patriots Wrestling Room.